Expand your screen space
The Cirago USB to HDMI Display Adapter (UDA2000) provides a unique solution to add extra displays to a computer without using the traditional graphics cards. It is perfect for laptop users who don't have the capability of adding an extra video card. It is also a cost-effective solution for desktop users who don't want the hassles of installing an internal video card. Users can instantly mirror or extend a desktop onto another display via standard HDMI, such as LCD, CRT, projector and plasma displays. Besides, users can experience 1080P resolution and stereo audio output abilities over HDMI connectivity for home entertainment application. With USB interface plug-n-play and bus powered feature, this product brings multi-monitor applications into the mainstream.
The Cirago UDA2000 supports up to 6 simultaneous displays for the PC and 4 for the Mac. It operates at a high resolution of up to 1920 x 1080 with digital audio.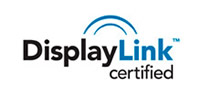 Features
One UDA2000 Adapter per display
Up to 6 simultaneous displays to one PC
Up to 4 simultaneous displays to one Mac
DisplayLink certified (DisplayLink chipset DL165)
Supports both video and audio (via HDMI)
Supports desktop display modes: clone, extended and rotation modes
Hot-swapping / Plug-n-Play of monitors without reconfiguration
Compatibility
Windows 10, 8.1, 8, 7 32/64-bit, Vista 32/64-bit, XP 32-bit, 2000, Mac OS X 10.4 and higher